PURPOSE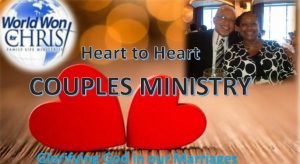 The purpose of this Ministry is to improve and maintain communication between marriage partners. To learn that a marriage based on a foundation of biblical principles is not only workable but offers the most fulfilling relationship humanly possible. It is meant to encourage and challenge couples in their spiritual journey, by getting them into God's Word and building their marriage God's way.
As you put God's plan into action with encouragement and grace, you will grow in love for each other and the Lord. May the Lord richly bless you as you listen for and respond to his call, living on a higher plane than those around you. One of the cement types that hold couples together is a joint commitment to God, shared values, and activities.
MISSION STATEMENT 
To support Christian marriage as an institution and promote family values based upon God's teachings and principles.
GOALS AND OBJECTIVES
To support and encourage Christian Marriage.
To promote family values in our homes, church, and community.
To build and strengthen marriage through biblical teaching.
To help maintain a Christ-centered home.
To share and fellowship with other Christian couples through testimony, teaching, and prayer.
To provide Christian couples and their families with an opportunity to share in social activities.
To enhance romance, according to God's principles.
To help couples maintain communication, openness, spiritual oneness, and structured prayer life.
FOUNDATIONAL SCRIPTURES
Therefore, shall a man leave his father and mother, and shall cleave unto his wife; and they shall be one flesh.  Genesis 2:24
"It was but a little that I passed from them, but I found him whom my soul loveth; I held him, and would not let him go." Song of Solomon 3:4